Planning management
To organise, record and distribute the planning to every employee via a personal portal.
This module enables to send the customised warning and to configurate the planning depending on the organisation's needs.
The planning management is totally adjustable to any type of structure.
> Basic parameters
This module is composed of the different elementary features that are all closely related.
Position management
Management of the duties and on-call
Absence management
> PLANNING PER POSITION AND PER PERSON
> Time clock management
Totally adjustable to the structure and its needs, the time clock enables better monitoring of the actual time worked compared to the working time that was planned.
> STATISTICS
Useful tools available to ensure the fairness between members of the personnel.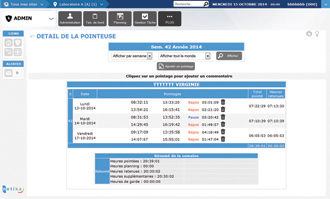 > TABLE OF ANNUAL WORKING TIME
Depending on the laboratory, this feature can help realising the pay slips, based on the annual working time